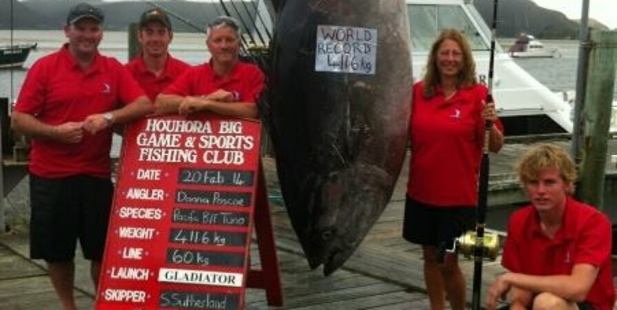 New Zealand angler Donna Pascoe landed a Pacific bluefin tuna Thursday morning that could shatter the current world record.
The Auckland native was fishing with a team aboard the charter boat Gladiator off the northern tip of New Zealand near Houhora, reports the New Zealand Herald. Pascoe used a 130-pound line to reel in the monster bluefin, which took more than four hours.
Although Pascoe caught a 537-pound blue marlin last year, that fish was nothing compared to her most recent catch. This Pacific bluefin weighed in at a whopping 906 pounds.
Pascoe's catch comes just months after fellow New Zealander Kevin Baker landed a potential record breaking Pacific bluefin in September. Baker's bluefin took 30 minutes to land and weighed 777 pounds, 1 ounce, surpassing the current record by almost 40 pounds.
But if her catch is verified by the International Game Fish Association, Pascoe's bluefin will upstage Baker's potential record by roughly 130 pounds, and outstrip the current record by about 167 pounds. The current record bluefin weighed 739 pounds, 6 ounces and was taken in February 2012, also in Houhora.